A good understanding of the MCITP Certification primarily starts with a bit (or a lot!) of reading. In order to gain your MCITP Administrator certification, you will undoubtedly need to read a few study guides to get the fullest understanding to prepare you for those curly questions which are bound to pop up during your exam and on the job.
Here is a MCITP book and study guide index. There is a great range for each exam from numerous different authors and gurus on each MCITP . When commencing study for a particular exam our recommendation would be to start with one of the Microsoft MCITP "Self paced training kits". We believe these have the greatest amount of information and they are written to follow the tested materials in the exam.
MCITP Study guides published by other authors are also valuable as they give you a fresh perspective on topics which can be a great help for ones you are having trouble with.
The most popular MCITP book set purchased is the MCITP Windows Server 2008 Enterprise Administrator: Training Kit 4-Pack
which includes study guides for MCITP exams 70-640, 70-642, 70-643 and 70-647. These exams are the core requirements to becoming an MCITP Enterprise Administrator.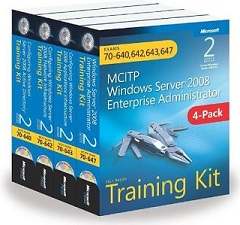 Most Popular MCITP study book set
Microsoft's Self-Paced Training Kit for the Windows Server 2008 Enterprise Administrator Certification.
This study book pack includes study guides for all 4 core Enterprise Administrator exams:
70-640
70-642
70-643
70-647

Click here to purchase these study guides and start your MCITP study on the right track!
MCITP Exam Study Books
If you are after a single study guide for a MCITP exam, we have listed a number of study guides available for each below:
70-640 Configuring Windows Server 2008 Active Directory
70-642 Configuring Windows Server 2008 Network Infrastructure
70-643 Configuring Windows Server 2008 Applications Infrastructure
70-647 Windows Server 2008 Enterprise Administrator
Choose the right MCITP Study Guide
Your MCITP study plan should be well-rounded and take advantage of training material on all mediums including books, videos and exam simulations. With so many books available for MCITP study it can be hard to choose which one will give you the best "bang for buck" without a bit of research on previous buyers reviews. We are in the process of creating a user review page for all popular MCITP study books which should be avaiable shortly so please check back! For now, all we can reccommend are the books that we have noticed are "hot sellers", we have listed these books below for you to help you make the right decision.
Top 5 Sellers: