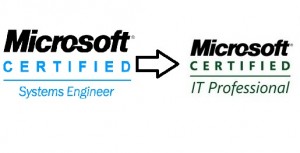 If you are currently a certified MCSE Windows 2003 your next move in your certification path will be to upgrade to a MCITP Windows 2008 certification. Gaining a new MCITP certification with Windows 2008 will bring your technical knowledge and skills up to scratch with Microsofts newest certification track. Being Microsoft certified in the latest technologies no only looks great on your resume, but will give you an edge over other job interviewees.
Luckily the MCSE upgrade to MCITP process is shorter than getting an MCITP straight off.  The MCITP upgrade track can be as little as 2 exams to upgrade to MCITP Server Administrator or 3 exams for MCITP Enterprise Administrator. Both these options include sitting one MCITP Pro exam and a number of MCTS Technical Specialist exams. Here are your MCSE upgrade to MCITP options:
MCSE Upgrade to MCITP: Enterprise Administrator
(3 Exams)
70-649 MCTS: Upgrading from Windows Server 2003 MCSE to, Windows Server 2008, Technology Specializations
70-680 MCTS: Windows 7, Configuring
70-647 MCITP: Windows Server 2008, Enterprise Administrator
MCSE Upgrade to MCITP: Server Administrator
(2 Exams)
70-649 MCTS: Upgrading from Windows Server 2003 MCSE to, Windows Server 2008, Technology Specializations
70-646 MCITP: Windows Server 2008, Server Administrator
Both options require you to sit the MCTS 70-649 exam as per the list above. This exam is a composite of three mcts exams – 70-640, 70-642 and 70-643 which are cut down into one exam. Because of this, you can actually use all the study material on offer for these exams to study for your 70-649 exam.
MCSE 2000 Upgrade to MCITP
Microsoft has deemed the technology gap between a MCSE 2000 and MCITP 2008 Server is too great of a jump for there to be an upgrade track. The full certification path should be followed – either MCITP Server Administrator or MCITP Enterprise Administrator.
Whats the first step to upgrading MCSE to MCITP?
You should be looking at sitting your MCTS 70-649 exam to bring your MCSE 2003 knowledge up to speed with Windows 2008 technologies. The easiest way to get started is purchasing the official Microsoft Self-Paced Training Kit
which will bring you up to par with the technology changes between these qualifications.
We also have a post about the MCSA upgrade to MCITP certification track if you currently hold an MCSA 2003.