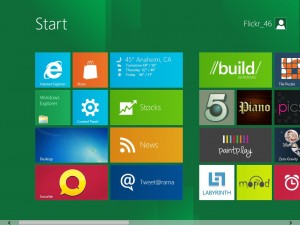 With Windows 8 due for release in October 2012, new MCITP Windows 8 certifications are definately on the horizon. Although there is no official date as of yet for the realease of Windows 8 exams, but if they follow a similar release date as the Windows 7 exams did, the Windows 8 Beta exams will be released a few of months prior to the Windows 8 RTM release and the mainstream exams will be available in the month leading up.
As Windows 8 has been designed for touch screenfeatures a new "metro-style interface" which is basically a series of tiles on multiple desktops similar to what you might already be familiar to on smartphones and tablet devices.
Windows 8 Beta exams will be available to select people who pre-register and will have the exam number denomination 71-xxx rather than 70-xxx. Windows 8 MCTS beta exams will be announced on the Beta Exams Annoucement blog on technet
The Windows 8 Consumer preview is available for download so you are able to have a quick play with the new styled operating system.
Photo: Dekuwa