Just as we got comfortable with the current MCITP certification paths that were introduced with the Windows Server 2008 and Windows Vista certifications, Microsoft has decided to do away with it for future technologies as we move closer to cloud computing. The change from the MCITP certification to the New MCSE Certification comes as Microsoft introduces new "Cloud-Built Certifications" The new certification path is based on a 3 tier design with levels being Associate, Expert and Master. The current MCITP certifications are based on a "flat" scheme as such which fails to correctly indicate actual skill level of the candidate.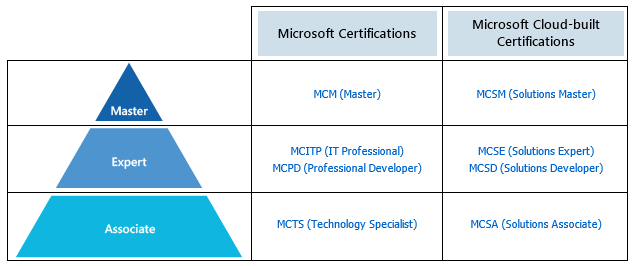 What is changed in the new certifications?
One of the changes is that new certifications are level based. For example, you first need to first be at the MCSA certification level as a prerequisite to gaining a MCSE certification and so on for the MCSM certification.
Second, the new certifications do expire – you need to renew them every couple of years to refresh your knowledge and skill set with the latest technologies to keep them vaild.
The new certifications are made to be much broader and more in depth compared to the current MCITP certifications. This will help clearly identify skill levels of different people.
Forget what you know about MCSA and MCSE
Microsoft has decided to re-invent these certifications with a whole different meaning. These no longer relate to Windows Server System Administrator and System Engineer certifications, but rather each a level on the new certification pyramid.
New meanings of MCSA and MCSE:
MCSA: Microsoft Certified Solutions Associate
MCSE: Microsoft Certified Solutions Expert
In addition to these, there are also two new MCSD and MCSM certifications which will respectively replace the MCPD and MCM certification tracks.
MCSD: Microsoft Certified Solutions Developer
MCSM: Microsoft Certified Solutions Master
How does this effect my MCITP certification?
Your MCITP certification will still continue to be valid until Microsoft's mainstream support for the technology ceases. If you currently hold a MCITP Server Administrator or MCITP Enterprise Administrator certification you will automatically be awarded with a new MCSA Windows Server 2008 as you have already passed all required exams for this.